LA BOUEE
La Bouée (pronounce: b + the "ou" of you without the y, then "ée" is pronounced like "hey" without the h and the y!: the b-(y)ou-(h)e(y) are those french guys doing it on purpose or what?)
La bouée is a peanut shaped hi-tech textile device filled with polystyrene beads.
It is attached on the back with two ajustable suspenders to the height needed.
It is then easy to rest one's elbows in order to hold a camera steadily with less effort and a well balanced back.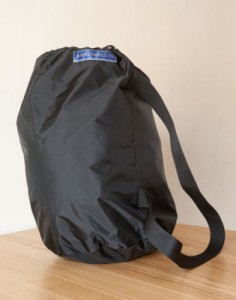 Price : 15 € HT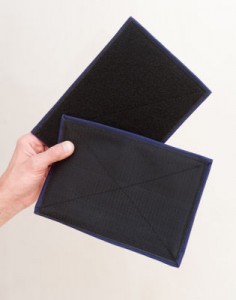 The velcro extension adds up to 15cm to the bouée's waist mesurements.
Price : 15 € HT
TECHNICAL DATA
Weight : 1300 g
Volume : about 18 liters
Waist measurement :
85 to 115 cm
(add 15cm with the velcro extension)
Ultra resistant reinforced blue cotton
Black fabric : 9% polyamide mesh, 91% PVC coating
White 100% microfiber polyester
Polystyrene beads treated M1
Price : 300 € HT
TECHNICAL DATA
Small wedge
Weight : 150 g
Volume : about 1 liter
Dimensions :
Width : 25 cm
Triangle : 25x20x10 cm
Gray polyester coated with polyurethane
Polystyrene beads treated M1
Price : 25 € HT
TECHNICAL DATA
Medium wedge
Weight : 450g
Volume : about 2 liters
Dimensions :
Width : 30 cm
Triangle : 30x25x15 cm
Black fabric : 9% polyamide mesh, 91% PVC coating
Polystyrene beads treated M1
Price : 60 € HT
TECHNICAL DATA
Big wedge
Weight : 750g
Volume : about 12 liters
Dimensions :
Width : 40 cm
Triangle : 50x40x20 cm
Black fabric : 9% polyamide mesh, 91% PVC coating
Polystyrene beads treated M1
Price : 90 € HT